2018 Schedule
To register for Technovation in Ottawa download the forms and send to ottawachapter@womenpoweringtechnology.org when completed:
Formes de Technovation Ottawa 2018
To volunteer, or get more information go here
Hack day:
January 14
Design Thinking Workshop:
February 4
Weekly meetings:
Wednesdays Feb 7 – April 25 from 7:00-9:00PM. (no meeting March 14th)
Submission Deadline: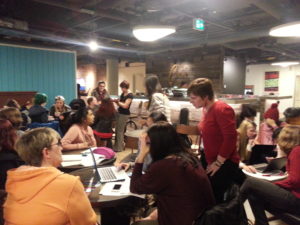 End of April
Ottawa Competition:
May at Carleton University
Meeting locations will be at different companies and university campuses.
All locations are accessible by transit.