Girls For a Change
Technovation, a flagship program of non-profit Iridescent, is the world's largest global
tech entrepreneurship competition for girls. The program offers girls around the world the
opportunity to learn the necessary skills to emerge as tech entrepreneurs and leaders.
Every year, Technovation challenges 10 to 18 year old girls to build a business plan and
mobile app that will address a community problem. Since 2009, over 15,000 girls have
participated from over 100 countries.
Working in teams of up to 5 girls, supported by mentors, students go through 4 stages of launching a mobile app startup, inspired by the principles of design thinking:
Ideation – Identify a problem in the community
Technology – Develop a mobile app solution
Entrepreneurship – Build a business plan to launch the app
Pitch – Take the business to market
Learn more about the global challenge
Technovation Ottawa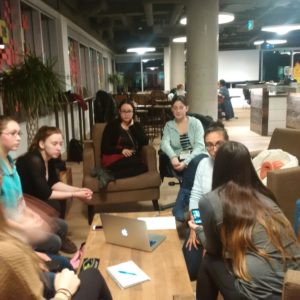 Over a period of 12 weeks, teams with three to five members, along with a female mentor, learn how to develop a concept for an application addressing an issue or need identified in their community, map out a business plan, and create a prototype app, all while learning the basics of marketing and programming.
Ideally, all girls on a team should either be in the same middle school or in the same high school. They should have a sponsoring teacher, who can facilitate organizing the team.
Le programme est disponible pour les élèves anglophones et francophones avec instruction et mentorat dans les deux langues. Cependant, la compétition sera en anglais.
The program is available for English and French speaking students, with instruction and mentorship in both languages. However, the competition will be in English.
Meetings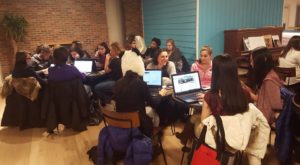 The teams meet as a group weekly at one of the local high-tech sponsors facilities – IBM, Adobe, Pythian, Shopify and L-Spark as well as University campus and other tech locations. At the weekly meet ups volunteers from Ottawa University and  Carleton University's Technology Innovation Management Program (TIM) deliver the curriculum, and guest speakers join to inspire the students on related topics. In addition, most teams meet on their own at school each week to work on their apps and businesses.
Mentorship Model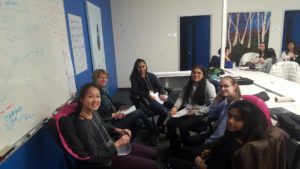 Teams are mentored by women who work in the technology field in tech companies around Ottawa as well as the Federal Government.
Teams will also be paired with female students who are studying engineering or computer science at Ottawa University and Carleton University.
The weekly program is available to students in French and English, with bilingual mentors. The competition is held in English.
Competition
At the end of the program there is a pitch competition, where teams pitch their businesses to local judges and compete for prizes. The top Ottawa teams move on to the semi-finals globally, where they will have a chance to win a spot in the top 10 to pitch in California.
Roles
Student – You are a girl in grade 7-12 ready for a fun experience in a team of up to 5 amazing girls. You can commit at least 4 hours per week for the program. (about 50 hours in total)
Mentor – You are a woman working in the field of technology in the private or public sector. Or you are a woman who is studying engineering or computer science at university. No coding experience is necessary. You will be paired with another mentor to work with a team. Mentors meet regularly with their teams, providing guidance, encouraging perseverance, problem solving and connecting them to resources they need.
You should be ready to commit 20-25 hours from January to April.
Instructor – You are in the field of technology in the private or public sector. You are interested in leading one or more of the weekly sessions, see below for information on the curriculum. You should expect to spend 2-4 hours preparing for the session, plus the 2 hour Wednesday session.
Teacher – You are a teacher in middle or high school who will sponsor a team. Your role is to help form one or more teams at your school, and to facilitate communication with the team during school hours. You do not need to attend any sessions or meetings, although you are welcome if you choose to participate.
Curriculum
WEEK 1 Get going with App Inventor and brainstorm a new business
WEEK 2 Learn about data and how to do market research.
WEEK 3 Conditional logic and how to build a brand.
WEEK 4 Calling external applications and building a business model.
WEEK 5 Prototyping and more in depth business model.
WEEK 6 Explore additional coding resources and create a logo and visuals.
WEEK 7 Marketing plans, and learn about pitch and demo videos.
WEEK 8 Pitch video tips and techniques.
WEEK 9 Components of a Business plan.
WEEK 10 Troubleshooting apps, how to produce a demo video.
WEEK 11 Finalize app, business plan, and demo video. Practice pitching.
WEEK 12 Final deliverables and submission
Previous winners:
2015 – Team Women With Ambition from Merivale High School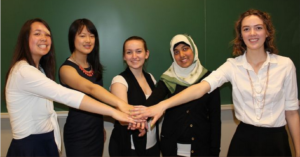 2016 – Team Pentagen from Earl of March High School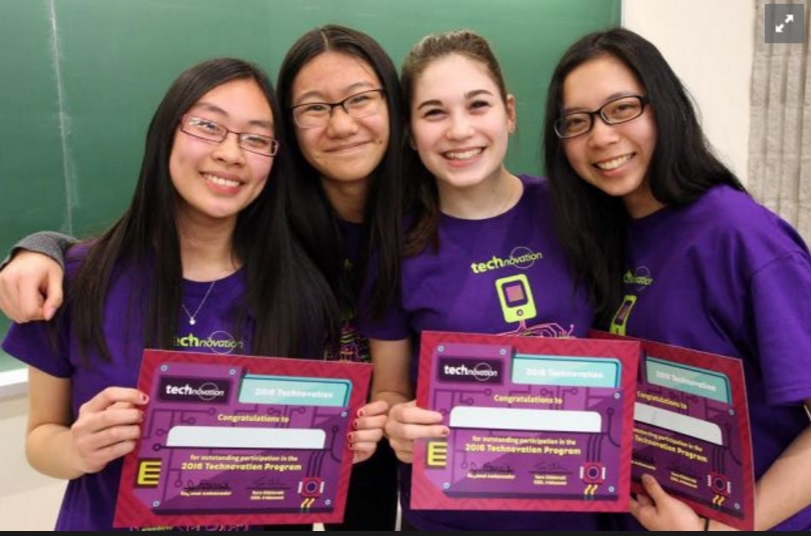 2017 – Team Food For Thought from Lisgar Collegiate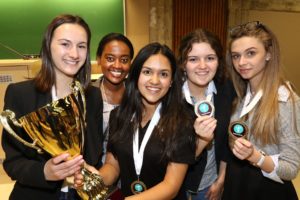 Sponsors
Shopify, IBM Ottawa, Adobe, Pythian, L-Spark, Carleton University